This shop has been compensated by Collective Bias, Inc. and its advertiser. All opinions are mine alone. #BigelowTea #TeaProudly #CollectiveBias
The start of a new year is a time for a lot of self reflection. A time where we evaluate what worked for us the year before, and what needs to go. A time to create new, healthy habits, and kiss the old ones goodbye. Sometimes this isn't an easy process though, especially because we tend to be creatures of habit (including old, unhealthy habits), and are resistant to change. You hear about all these healthy habits that you should get into, but you may need a little boost of motivation or inspiration to get going. So today, I want to share 10 healthy habits for a fabulous new year, so you can really experience what "new year, new you," feels like (instead of just aimlessly saying it on social media. Yeah I know you've said it at least once girl let's be real).
Healthy Habits for the New Year
1. Exercise
What would a list of healthy habits be without exercise? Exercise is pretty much the most popular healthy habit ever, especially when it comes to the whole "new year, new me" thing. However, getting into the habit of exercising doesn't necessarily mean hitting the gym everyday. If the gym isn't your thing, for whatever reason (don't like to be around a lot of people, expensive membership fees, too far from home, etc.) there are plenty of other options. Even if you do go to a gym, try out a class like yoga or zumba, as opposed to hitting the weights or the treadmill every day. You can even watch workout videos on Youtube at home and follow along with all the movements. There are so many different workouts on there so it's easy to switch things up so you don't get bored. Plus it's totally FREE. Honestly, even just talking a nice walk around your neighborhood can get considered exercise, or choosing to take the stairs at work instead of the elevator (if you have that option. I work on the 6th floor of a building. I consider that a workout). It's just important to get that activity in to boost your energy levels and improve your physical health.
10 Healthy Habits for a Fabulous New Year (& New You!)
Click To Tweet
2. Set monthly goals
I'm talking setting specific monthly goals. I think this helps you stay on track better than setting some huge goal that you'll soon lose focus on. You can even think about it as setting a "monthly vision." Write out how you want your month to look, how you want to feel, what you want to accomplish, etc. (I've been doing this in my planner this year!) Another way to think of it is it to set smaller monthly goals, that lead you to accomplishing that huge goal you set for yourself. I recommend writing these goals down in your planner (if you use one) so you'll see them every day. Then, at the end of the month, evaluate your progress. Did you achieve your goals? Do they still need to be worked on next month? What needs to change? It basically helps you tackle one thing at a time as opposed to trying to start 50 new goals/habits at once. So maybe next month, set a goal to start a consistent meditation practice (my personal goal), and then the month after that set out to achieve something new! Get creative, and hold yourself accountable.
Related: How to Use the Life Balance Wheel to Set Meaningful Goals
Related: How to Stay Focused on Your Goals & Rock the New Year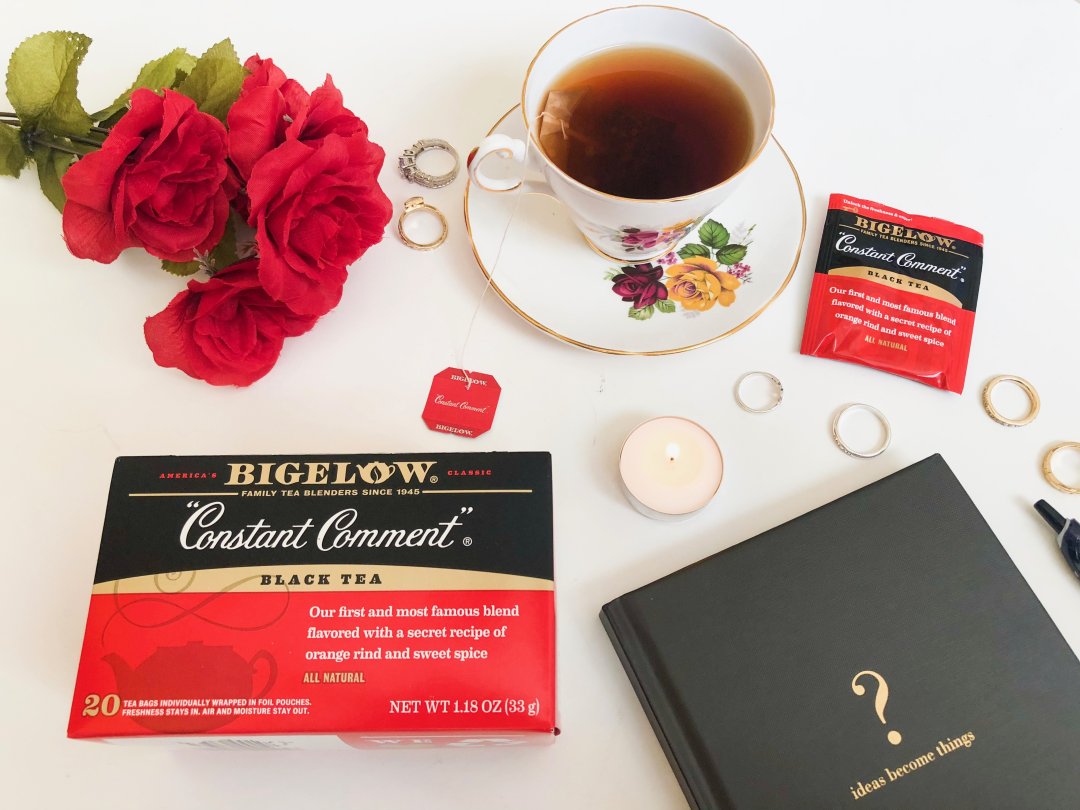 3. Drink Bigelow Tea
Did you guys know that January is Hot Tea Month? Well now you know, and Bigelow tea is celebrating it! Tea has become my new obsession, and Bigelow tea is a go-to brand for me. Tea has so many different health benefits making it a perfect healthy habit for the new year. I love Bigelow because they have SO many different flavors of tea to choose from. I've gotten into the habit of drinking an herbal (so no caffeine!) cup of tea every night to help me relax and get ready for bed. Bigelow has a large selection of herbal teas to choose from including Peppermint (my favorite!), Orange & Spice, Cozy Chamomile, Mint Medley, and Perfect Peach. Herbal tea is perfect for relaxation, and promoting calm, peaceful vibes. It's also a very delicious habit to get into especially with Bigelow's wide variety of teas and bold flavors. With so many different options to choose from, you can get that "new year, new me" feeling going every day with a new flavor (new day, new tea anyone?).
My personal favorite Bigelow black teas are the Vanilla Chai, and Constant Comment. If you're interested in enjoying one of these delicious flavors of Bigelow tea to start your "new year, new you" tea drinking habit, hover over the photo above the subheading "Drink Bigelow Tea" to click through to Walmart.com and purchase some! You can also visit your local Walmart and find Bigelow tea in the coffee & tea aisle. TeaProudly friends 🙂
4. Practice positive self talk
New year, new mindset! Make it a habit to be nicer to yourself this year, and cut out negativity from your life. Compliment yourself, use positive affirmations, and surround yourself with people who uplift you. It really is about mindset, and I know it's easier said than done sometimes, but take baby steps. Look online for lists of positive affirmations and pick one to focus on for each day or week. The more you tell yourself something, the more you believe it. Affirmations like "I am capable of amazing things," and "I am full of creative ideas and inspiration" have been key for me coming into the new year. Positive self talk increases your overall self confidence, and helps you cultivate a positive mindset. It's key for "new year, new you" 😉
5. Get more sleep
Sleep is like exercise when it comes to healthy habits. It's something we know we should do more of, but don't because we're so busy with everything else. I personally love sleeping, but during the week it can be difficult to go to bed "on time" and still get everything done after work that I wanted to do. However, sleep is very important for your health and self care. It aids in both your physical and mental health, so this year make it a habit to get those 6-8 hours of sleep a night. Create a night time routine to get you into the habit of going to sleep by a certain time, and check out my tips below to you fall asleep faster.
Related: 9 Tips to Help You Fall Asleep Fast
6. Practice Mindfulness
The definition of mindfulness is "the quality or state of being conscious or aware of something," or "a mental state achieved by focusing one's awareness on the present moment, while calmly acknowledging and accepting one's feelings, thoughts, and bodily sensations." I see it as taking time to appreciate life, and being intentional with your actions. I feel like mindfulness has become more and more important, as we get further wrapped up in technology. It's important to take time to appreciate the beauty in the world around us, and enjoy the little things. For example, you could take a walk outside and be mindful of the trees and flowers that you walk by. When you brew a cup of coffee, focus on and enjoy that amazing smell and appreciate every sip. Use mindfulness as a way to find calm in your day and enjoy the little things in life.
7. Nightly self care ritual
This is something that I've personally started doing as part of my "new year, new me" routine. A self care ritual helps you to look forward to self care which makes you make time for self care. I look forward to coming home from work everyday so I can get into my comfy pajamas, diffuse some essential oils, light some candles, drink Bigelow tea, and read, journal, or meditate (depending on what I feel like doing or what would be most beneficial that night). I also decluttered and rearranged my room at the start of the new year to give me that "fresh start" feeling. It's helped me to feel much more at peace in my room, because the state of your environment affects the state of your mind (a lot of the time they're a direct representation of each other). So take the take to schedule some simple self care into every day this year, and you'll definitely feel that refreshing "new year, new you" feeling that you're looking for.
Related: The Ultimate 3 Step Night Time Routine for a Healthy Mind & Body
8. Drink more water
Another healthy habit we always say we want to form, and then struggle with. Water is basically….the key to existence haha. I've become conscious of how much water I drink over the past two years, and I really make an effort to drink as much as I can every day. It's difficult at work sometimes if I won't be in the office much all day (don't really want to have to pee every 5 minutes when I'm out in the community meeting with clients..) but I do bring a huge water bottle to work everyday and usually end up finishing it. On the weekends, I definitely make sure I'm drinking my 8+ cups a day. The easiest way to keep track is to use a large water bottle (say 32oz+) and make sure you drink the whole thing twice a day. That way you're able to measure it.
9. Journal
Journaling is something that could definitely be part of your nightly self care ritual (it's part of mine) or you could use it in the morning for free writing. Whenever you use your journal it's definitely considered a healthy habit. Journaling acts as a form of release. It can be a real relief to get all your thoughts out onto paper instead of keeping them all trapped inside your head. Sometimes I even use a journal to write down my to-do lists on the weekends because I wake up with all these thoughts of things that I have to get done. You can also use a journal for self reflection, or recording your daily life and memories. So grab a cute notebook and pen, brew a cup of Bigelow tea, relax, and clear your mind!
10. Meditation
This is a healthy habit that I'm actually trying to get into myself as of this year. For the past few months, I had been looking into meditation, but never actually tried it until this January. So this is big part of "new year, new you" for me this year. Meditation allows you to clear your mind and cultivate an emotionally calm state. It's a way to tune into your inner self and focus on one single thing, while tuning out all of the background noise that goes on inside your head. It's helpful for changing your overall mindset, and bringing abundance and prosperity into your life. Doesn't that sound like an awesome healthy habit for the new year? I combine prayer with meditation, and I also use crystals to strengthen my practice because I love what they represent. The point is, you can really customize your meditation habit to meet your needs. There's no right or wrong way to do it. Just sit, focus on your breath, breathe in positive energy, and exhale the negative.
I hope you're feeling inspired to get going on your "new year, new you" plans! Forming healthy habits is definitely something that should be on our to-do lists all year long, but the start of the new year provides that extra boost of motivation that we need to get started. Let me know in the comments what your "new year, new you" personal growth plans are this year!
Oh! & you can enter to win a "Cozy up Prize Pack" full of Bigelow tea and other goodies down below!
You can also follow Bigelow on Facebook, Instagram, and Twitter if you just can't get enough tea in your life.
#TeaProudly #Sweepstakes (1/16 to 2/28)